Advanced Care Management Programme for LHP Skillnet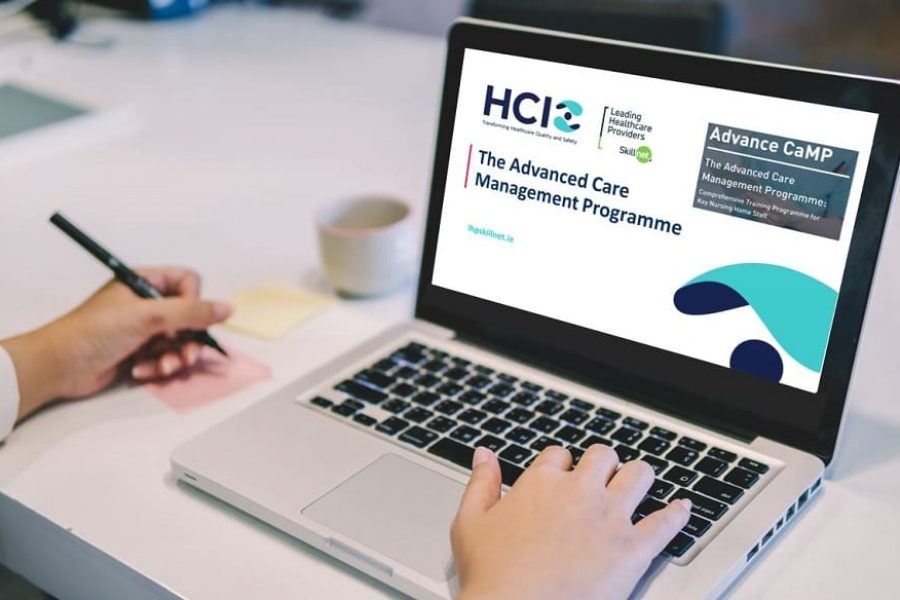 Background
Leading Healthcare Providers Skillnet (LHP Skillnet) is a non-for-profit learning network, who provide high-quality, sector-led, subsidised training and education to support the private healthcare sector.
To support nursing homes in meeting the ever-growing regulatory and best practice requirements, LHP Skillnet identified a need to develop a training programme that would provide key individuals in nursing homes with a comprehensive body of knowledge to understand the regulatory requirements, best practice and emerging guidance, and provide participants with the skills to apply the tools and techniques to support their implementation.
Consequently, LHP Skillnet commissioned HCI to develop and deliver the Advanced Care Management Programme (Advance CaMP).
Objectives
To provide an understanding of the regulatory requirements, best practice, and emerging guidance.
To provide participants with the skills to apply the tools and techniques to support the implementation of the requirements.
To provide an understanding of the trending and analysis of HIQA findings in the area being discussed.
To provide Registered Providers, Senior Management, and other key individuals with comprehensive information on their roles, responsibilities, and accountabilities for the operation of their service.
Solution
To support LHP Skillnet, HCI developed and delivered the 16 module Advanced CaMP over an 8-month period. Modules included: 
Governance within the HIQA Framework
Development of Policies and Procedures
Person Centred Care Planning – Effective assessments to best practice care delivery
Identification, Evaluation, and Management of Risk within the Residential Care Sector
Provision of Evidenced Based Medication Management Practices
Quality of Care Audits in Healthcare
HIQA's Protection of Resident's Rights, Dignity, Education and Consent
Effective Management of Complaints
Safeguarding and Protection of Vulnerable Adults
Incident Reporting and Management of Serious Incident Reviews
Management of Behaviour that is Challenging, including Restrictive Practices
Governance and Management of IPC within the residential care service
Provision of Palliative and End of Life Care within Residential Services
Fire Safety Handbook: Requirements and application
Performance Measurement and Continuous Improvement within Residential Care
Preparing for HIQA Inspection
Outcome
LHP Skillnet, in conjunction with HCI, delivered a comprehensive education programme to key nursing home individuals. The Advanced CaMP consisted of 16 modules and addressed all aspects of service and care provision within nursing homes, from developing a robust governance model to the hands-on provision of person centred, individual care to residents.
The training was delivered remotely over an 8-month period by a senior member of HCI's Quality and Safety Team. Each module included a presentation with interactive sessions and workshops throughout. All module content was based on best practice and regulatory requirements, including emerging guidance, and provided participants with the practical skills to apply the relevant tools and techniques to support implementation within their service.

Benefits
Create awareness amongst the Management Team with regards to their roles, responsibilities and accountabilities for the operation of the service.
Staff gain an understanding of regulatory requirements and any new emerging guidance.
Training is delivered remotely, making it easily accessible to staff.
Participants have the flexibility to pick and choose the modules most relevant to them.
Training is delivered by a HCI Senior Quality and Safety Specialist who is industry active and can share practical knowledge for application of the course materials.
Module content is supported by trending and analysis of HIQA inspection findings in the relevant area.
Staff are more confident that they have the skills and tools to apply the regulations within their service.
Participant Feedback
"Training was very informative and well explained each aspect of the requirements."
"Very organized, up to date, clear and it gave a lot of examples which is very helpful."
"I really enjoyed how practical it was – trainer went through real life scenarios that were very relevant and beneficial."
"Very relevant topic – good level of detail and real examples discussed. presenter was very open to questions and had great responses. Presenter was clearly very knowledgeable and passionate about the topic."