Quality and Safety Data Analysis Portal – QualSIPTM
Real time quality and safety data analysis
Leveraging real time quality and patient safety data analytics supports the healthcare provider in achieving their goal of improving outcomes for patients. However, accessing this data can be difficult. It may require searching through multiple platforms and data sources to collate the information into a usable format. This is time consuming and inefficient.
QualSIPTM, the Quality and Safety Data Analysis Portal, developed by HCI, helps healthcare organisations ensure appropriate and useful data is gathered, extracted and analysed.
The data displayed is in real time dynamic dashboards and graphs, and offers healthcare professionals instant access to critical data and trends that can help to identify and address gaps in care or patient safety, quality assurance or risks, supporting them to make improvements in clinical and quality outcomes.
QualSIPTM also reduces administrative burden and supports your regulatory compliance. The Key Performance Indicators (KPIs) measured in QualSIPTM around internal audits, document control, incidents and training can be used to provide evidence of regulatory compliance during an inspection.
data-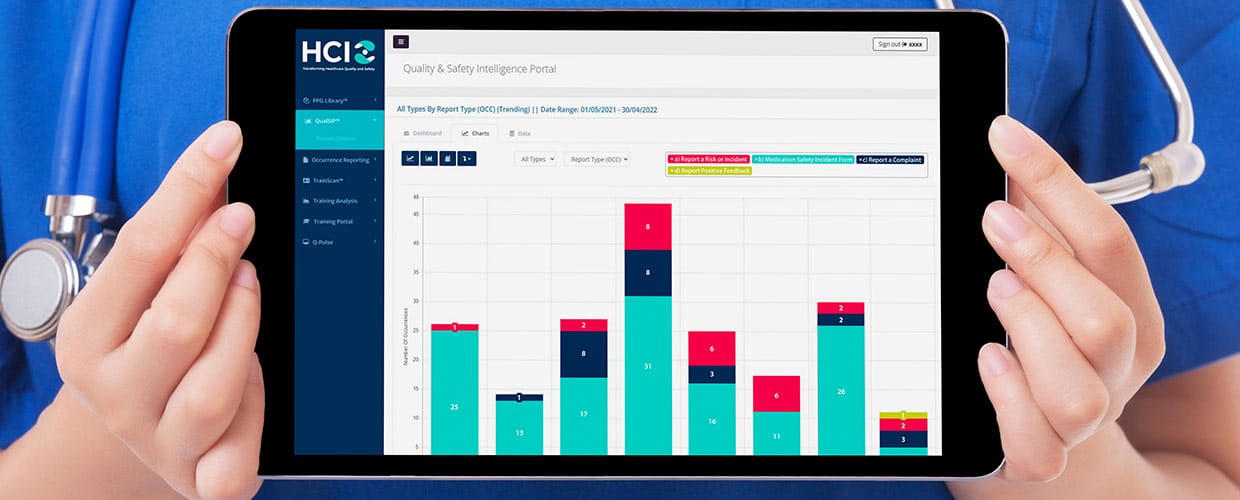 Real Time Data
QualSIPTM presents real time, governance, quality and patient safety data such as documents, audits, QIPs, Incidents, Risks and Complaints.
Customisable Dashboards
The dashboards and graphs are fully customisable to your requirements, allowing you to get key data when and where you need it.
Dynamic Graphs
Graphs are dynamic and allow you to drill down and action the individual data components without having to log into another system.
Centralised Oversight
QualSIPTM helps to improve governance by providing centralised oversight of your Quality and Safety Management System activities.
Informed Decision Making
Having data presented in a trending format allows for high-risk areas to be identified, enabling better decision making.
Improve Efficiencies
Access to real time data and graphs in QualSIPTM, helps to dramatically reduce the time staff spend on collating monthly reports.
QualSIPTM
The Quality and Safety Intelligence Portal (QualSIP TM) allows for real time analyse of key quality and safety data around documents, incidents, risks, audits and QIPS.
Managers have the ability to:
View dynamic graphs and dashboards of real time quality and safety data from the QMIS
Drill down into the individual data components of the graphs
Identify high risk areas
Make informed decisions based on real time data