Supporting Clinical Governance in Telehealth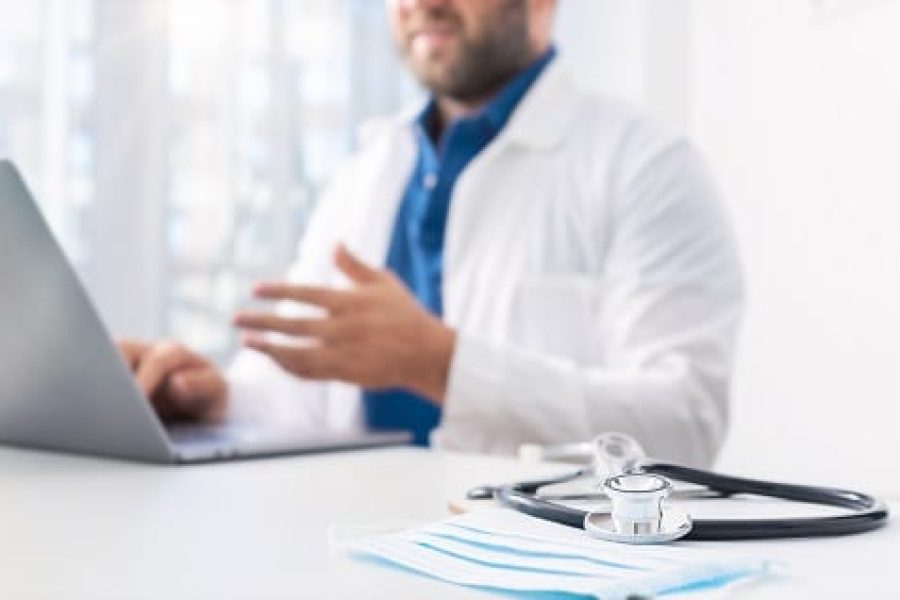 Introduction
It is evident that COVID-19 has had a profound impact on our health service. One of the biggest changes since the start of the pandemic is the rapid growth of Telehealth. The Medical Council's research conducted in 2020 identified a five-fold increase in the use of telehealth services, this was mainly associated with the impact of COVID-19 on telehealth.
The ISO/TS 13131:2014 defines telehealth as the use of information and communications technologies to deliver healthcare and transmit health information over both long and short distances. Although Telehealth can be effective across a wide range of health services when used appropriately, it does pose challenges and questions around clinical governance and whether the appropriate Quality and Safety Management Systems are in place to ensure delivery of safe, high-quality care.
In this blog post we consider some of the challenges brought about by the rapid growth in telehealth and provide guidance for Telehealth services to address some of the key areas of concern.
---
Challenges associated with Telehealth
The principles of care for telehealth are the same as with delivery of care through face-to-face consultation. However, the delivery of care via technology presents additional risks compared with face-to-face healthcare delivery, for example breakdown in communication, inappropriate care or decision making and data protection issues. Unsurprising, the Emergency Care Research Institute (ECRI) included Telehealth Workflow Challenges as no. 6 in their list of Top 10 Patient Safety Concerns for 2021.  They note challenges in relation to poor WIFI, inadequate or inappropriate monitoring, inadequate availability of monitors and rooms with monitoring capability and inadequate language services. They also note that 19% of events included concerns regarding escalation of care.
In the Report of the Medical Council Working Group (2021) on Telemedicine, they highlight issues such as education, framework for telemedicine, the legal landscape in telemedicine, prescribing, doctor work burden and fatigue, lack of physical examination, communication,  regulation and practical challenges such as technology, Wi-Fi connectivity and administration.
So, what does this mean? The rapid increase in use of Telehealth services means that there could be patient safety issues particularly around clinical governance, oversight and ineffective infrastructures. Traditional healthcare services have had time to develop their systems and prepare for the change we experienced during the pandemic, however, many telehealth services have not had this time to prepare due to the unprecedented rapid growth they have experienced since 2020. They now need to consider how they are assuring that care is appropriate, that there is follow up and that the correct processes and systems are in place.
---
10 Recommendations for Telehealth Services
Regroup: Telehealth providers should first take a step back and consider key factors such as what standards should they have in place, what Quality and Safety Management System should be implemented, what clinical governance structures should they have, are all staff clear on the processes, does everyone understand how they are going to deliver care and when things go wrong how will it be managed.
Build a QSMS: Telehealth organisations should have a robust Quality and Safety Management System in place to define and monitor all quality and safety aspects of the service.
Policies and procedures: Telehealth services must develop evidence based, best practice policy and procedures that clearly detail roles and responsibilities and formalise the protocols utilised within the service. Among the key areas to consider are clinical governance protocols, risk management processes, the internal audit policy, incident management policy, complaints management policy and information management policy. Ensure there is appropriate ownership, review, approval and communication of all policies and procedures.
Governance: Governance is essential to ensuring effective ongoing monitoring and oversight of the telehealth service. There must be appropriate governance structures, clear lines of accountability, clear job descriptions, detailed roles and responsibilities, teams and committees, statement of purpose, practice scope documentation, clinical guidelines and protocols. A strong leadership and governance function will support the management of potential risks to patient safety, ensure evidence-based policies and procedures are used, ensure appropriate standards are implement and make sure there is appropriate and timely decision making.
Confidentiality and Client Privacy: Give consideration to the physical space utilised for the consultations. Ensure that there is appropriate privacy available. Data captured should comply with all relevant data protection and privacy regulations and be stored securely.
Risk Management: Identify the key risks to the telehealth service and implement measures to reduce or mitigate these risks.
Incident Management: Ensure an appropriate Incident Management System is in place to identify, manage and resolve any adverse events or incidents that may result from the use of telehealth. Embedding a culture of reporting and learning from incidents is an important part of incident management in order to drive continuous improvement.
Certification / Accreditation: It is important to look to what is best practice. Standards and Guidance such as the ISO 13131:2021 set out a framework to support telehealth services with embedding an effective best practice, quality management system that will support the delivery of an effective telehealth service.
Staff training and education: Ensure that your staff possess the necessary competencies that are essential to provide healthcare via telehealth. Provide them with opportunities to participate in appropriate training courses in the provision of telehealth services.
Audit and monitoring: Identify a set of clinical and non-clinical Key Performance Indicators (KPIs). KPIs help an organisation to monitor if performance is good and meeting desired outcomes and were performance needs improvement. Telehealth organisations should also ensure that there is an annual audit schedule to evaluate adherence to policies and procedures. It is essential that any findings from audits and quality improvement plans are addressed in a timely and efficient manner.
---
How can HCI help?
HCI's Quality and Safety of Care Assurance Programme supports Telehealth Services in implementing and managing an effective Quality and Safety Management System. Our programme is fully comprehensive and will drive effective leadership, oversight and delivery of services whilst also providing a framework to meet all regulatory requirements.
HCI's Quality and Safety of Care Assurance Programme includes:
Quality Management Information System (Q-Pulse)
Quarterly Quality and Safety Reviews
Regulatory Policies and Procedures
Quality and Safety Audits
Quality and Safety Intelligence Portal (QualSIP)QualSIP
Regulatory Notifications and Safety Alerts
Learning from Excellence
Quality and Safety Education and Support
Q-Pulse Administration and Frontline Staff Support
Staff Culture Surveys
---
Conclusion
The expansion of Telehealth is likely to become permanent. Telehealth services and organisations utilising Telehealth services now need to consider the effectiveness of their clinical governance arrangements to ensure that they are providing a safe, high quality service that can adapt and drive continuous improvement.
HCI is a provider of professional services in relation to patient safety, quality improvement, and regulatory compliance. As such we understand your requirements and have the necessary experience to expertly support you in buildings a robust QSMS, support your clinical governance framework and drive quality improvement across your service.
If you would like more information on Quality and Safety Management Systems contact HCI.