World Patient Safety Day 2023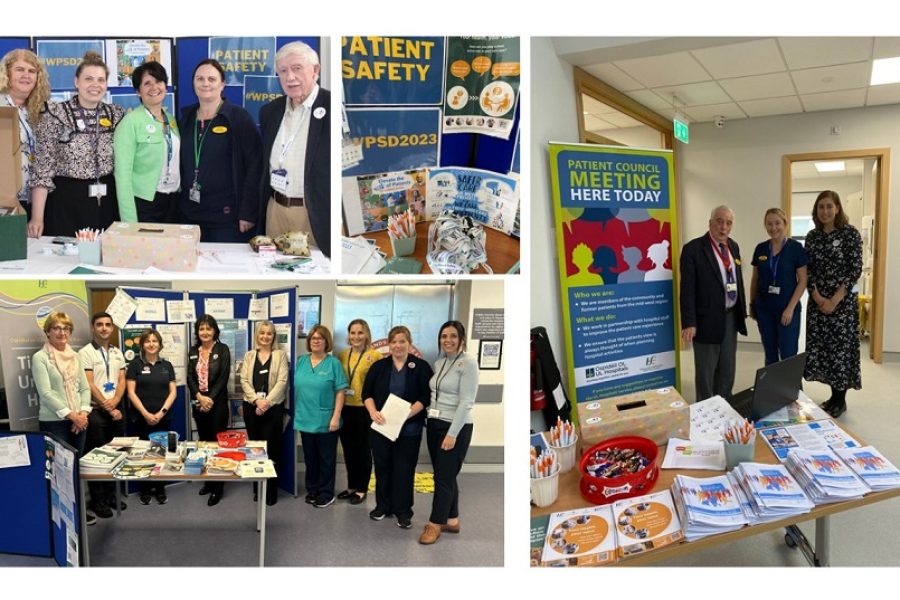 Introduction
World Patient Safety Day 2023 is marked on 17th September. This year's theme is "Engaging patients for patient safety", and aims to influence stakeholders including patients, families, policy makers, health care leaders, health workers and patient organisations to work collaboratively towards co-designing health care policies and safety interventions that truly reflect the needs and preferences of patients, ultimately enhancing healthcare safety globally.
Collaborating with patients and families is an important tool to improve patient safety. As patients travel through the entire health system, they are well placed to offer a holistic view and provide valuable insights from their experiences of care which can help drive health care system improvement.
At HCI, we help providers of health and social care make intelligence drive decisions to attain, manage and improve quality, safety and regulatory compliance. Partnering with healthcare clients to build Quality and Safety Management Systems that centre on patient safety and driving quality improvement, is imperative to us.
To mark World Patient Safety Day 2023, we linked with some of our long-term clients to discuss some of their ongoing patient engagement initiatives, as well as their campaigns to mark World Patient Safety Day.
---
Tipperary University Hospital
The Quality Team at Tipperary University Hospital (TippUH) actively engage patients for patient safety. One of their most valuable initiatives to engage with patients, is through the Patient Representative Service Users Forum. This forum meets quarterly and allows TippUH to actively seek input from patients or their representatives in the planning, design and delivery of services.
TippUH have also established an Inclusion Working Group, which encourages the involvement from all diverse communities such as LGBT+, Traveller, Roma, Refugees and International Protection applicants. In addition to quarterly meetings with the Inclusion Working Group, the team at TippUH meet these groups in the community to conduct training and awareness days. Tipperary University Hospital are grateful for the ongoing engagement, support and commitment received from both groups.
Each year, TippUH invite a patient to speak at their Annual Quality Day to share their experience and tell their story. In 2023, TippUH took this a step further and invited a patient to Chair the afternoon session of the Quality Day. The input and ongoing engagement from patients helps to create a learning culture and promotes improvements in patient safety.
To mark World Patient Safety Day, TippUH hosted a wide range of patient safety awareness events, including Positive Patients' Identification, Risk of Falls, VTE Awareness, Medication Safety, "Know, Check, Ask" leaflets, Pressure Ulcers, Sepsis and Patient Safety Strategy. Members of their Inclusion Working Group and Patient Service Users Representative Forum were also in attendance on that day.
---
University Limerick Hospitals Group
University Limerick Hospitals Group (ULHG) organised a full week of events to mark World Patient Safety Day 2023. Events were held across all sites during the week including the Croom Orthopaedic Hospital, Ennis Hospital, Nenagh Hospital, St John's Hospital, University Hospital Limerick and the Maternity Hospital Limerick.
During the mornings, awareness events were held for patients, with information stalls set up in outpatient clinics. Staff handed out leaflets and pens and encouraged patients to ask questions as they went into their appointments and take notes so that they can play an active role in their own care. Patient Representatives were present at these clinics to talk to patients and answer any questions they may have.
Education workshops were also held for staff during the week, including an all-day patient safety learning event on Wednesday for front line staff to cover important topics such as falls prevention, reporting incidents and sepsis training.
During the year, ULHG actively engage with patients for patient safety. The Patients Council was established in 2016, and provides an independent voice for patients, service users and their families. Council members inform and contribute to ULHG's efforts in providing a patient-centred healthcare service. The council meets regularly and provides an opportunity for meaningful engagement between the hospital and patients, ensuring that patients voices are heard.
ULHG have a dedicated Patient Advocacy and Liaison Service (PALS) team who act as a point of contact between patients, their families or carers and the hospital. The PALS team works on initiatives and ways to improve the patient experience by listening and responding to what matters to patients. One of their initiatives is to include notice boards on the wards for patients. These notice boards include important information such as visiting hours, mealtimes, staffing and key contacts so that patients will know who to ask if they have questions about their care. During the Christmas period a compliments tree is set up in each hospital so patients and families can share compliments and experience of their care with staff and other patients.
---
Royal Victoria Eye and Ear Hospital
The Royal Victoria Eye and Ear Hospital (RVEEH) is committed to continually improving the quality of care that the hospital provides. RVEEH is Joint Commission International (JCI) Accredited and has a dedicated quality department to support the planning and delivery of services.
To mark World Patient Safety Day, RVEEH have displayed information posters across the hospital, and shared information on their quality indicators and on the International Patient Safety Goals.
Information stands were set up around the hospital to distribute educational pamphlets to staff to raise awareness on patient safety. RVEEH are also hosted an information session for staff, which included a presentation from a representative from the Ireland East Hospital Group.
Throughout the year, RVEEH engage in a variety of initiatives and educational days to promote patient safety. Most recently, they held a Sepsis awareness day to share information and educate staff and patients around sepsis and the importance of early treatment.
HCI is delighted to have a long-term partnership with the RVEEH, TippUH, and ULHG, amongst others and is pleased to sponsor their World Patient Safety Day campaigns.
If you would like any further information, please contact HCI on 01 629 2559 or info@hci.care.