HCI marks 10 years for the HCI Quality Information Systems Support Service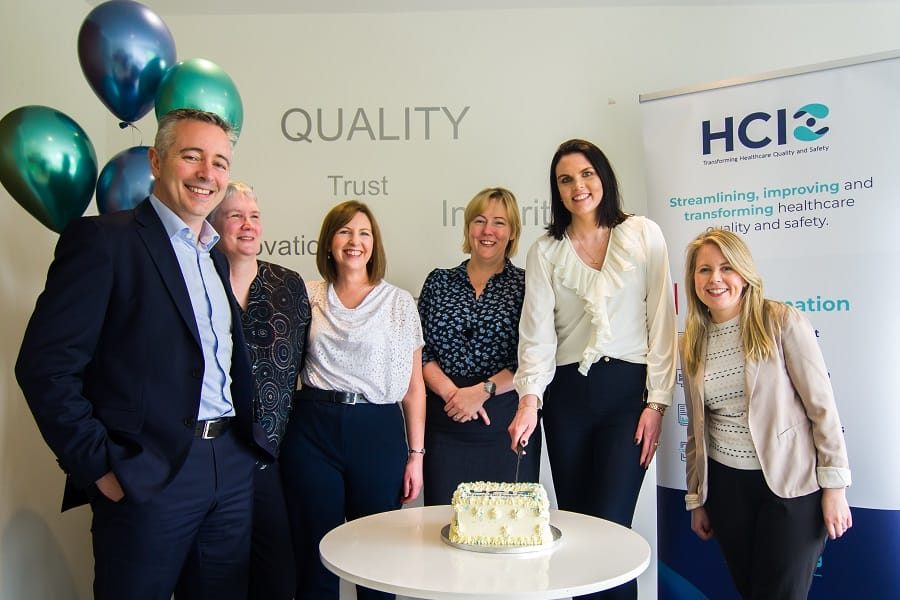 This year, HCI is delighted to celebrate 10 Years for HCI's Quality Information Systems (QIS) Support Service. The HCI QIS Support Service first launched in 2013, after HCI identified a need to provide a managed service for the Hosting, Administration and Support of Quality Management Information Systems (QMIS).
HCI QIS Support Service has grown significantly over the last 10 years. We now have a team of QIS Specialists, QIS Developers and a QIS Support Desk for frontline users. Our team provides clients with day-to-day functional and technical support of their QMIS, we keep their systems up to date and line with best practice, we offer quality and safety support and advice, and provide training to staff on utilising the QMIS.
Since the QIS Support Service first launched, we have continued to listen and respond to the needs of our clients and consequently, we developed HCI KnowledgeTM.
HCI KnowledgeTM is a customised, online interface that enhances the front-line users' experience and interaction with the QMIS, whilst also reducing the administrative burden of regulatory compliance. Within HCI KnowledgeTM our clients can access system interfaces such as:
These digital transformation solutions help to improve patient safety, drive quality improvement, and reduce administrative burden, giving staff more time with patients, which in turn helps to improve patient safety outcomes.
We are proud of the support we offer clients and are delighted to say we are still supporting many clients such as The Rotunda, University Hospital Waterford and Saolta, since the HCI QIS Support Service launched in 2013.
Speaking about the HCI QIS Support Service, Cathy Ryan, Engagement, Wellbeing and Communications Manager at The Rotunda said:
"The HCI QIS Support Service has been so valuable over the last 10 years. It takes the pressure off internal resources and provides our staff with efficient and prompt access to support."
---
Interview with Carmel Marley, QIS Support Desk Manager, HCI
Carmel Marley, the QIS Support Desk Manager, discusses how the HCI QIS Support Service has grown over the last 10 years and outlines some of the key benefits the service offers clients.
Qu. What is the main function of the HCI QIS Support Service?
In the QIS Support Desk, we provide clients with support on utilising and managing their QMIS based on their approved processes. On a day-to-day basis, this means providing QMIS functional support to frontline users. We spend a lot of time ensuring our client's systems are kept up to date and in line with best practice. We work with HR departments to keep user information accurate and up to date and support clients with the management and circulation of policies and procedures in line with their approved processes. We also ensure frontline users know how to use the system by providing regular training sessions to any new staff members or anyone who needs refresher courses. The QIS development team offer technical support to clients and continuously enhance our QMIS solutions to keep them in line with best practice and ensure that they are meeting clients' needs.  The HCI QIS Specialists work with clients to support the adoption, utilisation and continuous improvement of their QMIS.  Combined, we offer clients a comprehensive managed service, supporting them to maximise their QMIS for Quality and Safety.
Qu. How has the HCI QIS Support Service grown over the last 10 years?
When we started in 2013, the support team manually created quality and safety data reports, and now the recently developed HCI KnowledgeTM Portal is getting amazing feedback, as an intuitive user-friendly electronic system that enhances staff utilisation of the QMIS and delivers real time, quality and safety data to the client in an instant.
Each year our client base continues to grow. Back in 2013 we were getting approx. 30 cases per day in the support desk, now we are up on 90+ cases per day. Some of our support team have 10 years' experience in supporting clients with their QMIS and we have closed over 85,000 cases!! We have clients that we have supported since the HCI QIS Support Service was launched and we have built strong relationships with the relevant people in these healthcare settings.
We now have a development team to support all our clients' needs. For example, when we first started the support service, we helped many clients manually upload paper incidents onto their QMIS, now all incidents are recorded and managed electronically. HCI responded to clients' needs by developing the Occurrence Reporting Portal to make it easier for front-line staff to record incidents, risks, complaints and positive feedbacks. All occurrences reported through the portal are automatically uploaded into the QMIS.
HCI developed the PPG LibraryTM to allow staff to have simplified access to Policies, Procedures and Guidelines held within the QMIS. This is an excellent system, that reduces the barriers to accessing policies and procedures. HCI also recently added new functionality that allows staff to acknowledge documents within the PPG LibraryTM without having to log into another system.
QualSIPTM, is a Quality and Safety Intelligence Portal developed by HCI. It is utilised by Management Teams and Quality Teams, and provides them with real time, quality, safety and governance data. It pulls information from the QMIS and presents it in easily understood dynamic graphs and dashboards.
TrainScanTM is another fantastic system that was developed in response to our clients' needs. TrainScanTM is an intuitive system, that allows for easy recording of staff attendance at training events by scanning their staff I.D. badge. Line Managers and Training Managers can quickly analyse all training activities undertaken by staff within their organisation or department. Clients have commented on how it provides great transparency around training and helps to plan for training events. It gives the client quick access to real time training data across multiple departments, which is a valuable tool during a regulatory inspection, where you are required to demonstrate mandatory training compliance. Staff also have the ability to manage their own training record, view their training history and book themselves onto a training course.
The Risk Register Portal is the most recent system we have introduced. This is an electronic risk register which supports effective oversight and management of risks within the service. It offers clients the functionality to search, view and manage risks, view their responsibilities, and add new risks.  
As you can see, it is really important for us to help our clients get the maximum benefit from their QMIS. We have a unique understanding of the healthcare sector and the challenges our clients face. We combine our regulatory, quality and safety knowledge with our quality information systems knowledge to develop and support customised digital transformation solutions. Our QIS Support Service gives clients peace of mind that they have a best practice QMIS in place, which is properly maintained and administered, and staff have consistent access to a knowledgeable support team.
Qu. What are the main benefits the QIS Support Service offers HCI's clients?  
Quality is part of everyone's role in healthcare. Having consistent access to HCI's QIS Support Service helps reduce administrative burden and gives staff more time for their healthcare duties. Our support team is accessible to clients via phone and email, and they appreciate having this easy access to knowledgeable and skilled support for their QMIS.
The administration of the system can be time consuming. Having HCI's support reduces the burden on the internal Quality department in managing administrative tasks such as dealing with technical queries, managing staff profiles, uploading documents or training new users. We also offer advice based on our years of knowledge on the most efficient way to manage their system based on their approved policies and procedures.
During the implementation phase of the QMIS and the HCI KnowledgeTM portals, our team undertake extensive process mapping to understand the client organisation's existing processes and identify ways in which the processes can be more efficient, and more aligned to a best practice QMIS. We also want to ensure that the data which comes out of the QMIS aligns to the Key Performance Indicators (KPIs) required to demonstrate regulatory compliance. Once the QMIS is implemented, we then ensure the system is utilised correctly and maintained in line with the approved processes.
Our support team works with all levels of staff and delivers an effective service in all areas. We work hard in meeting the needs of all our clients and we ask for feedback on our closed cases.  So far in 2023 we have reached a 97.25% Excellent / or Good satisfaction rating!
Implementing a new system of any kind is never easy, having access to a support service like ours, helps to support the change management process and embed the QMIS within the service. Our team offers front line users the support and training they need to utilise the system correctly. The HCI KnowledgeTM portal is a great way to make it easier for staff to utilise and interact with the QMIS.  This interaction gives our clients more valuable and easily accessible data which supports decision making, reduces the administrative burden of regulatory compliance and ultimately improves patient safety.
If you would like more information on HCI's QIS Support Service, contact info@hci.care.