Importance of process mapping as a first step to digital transformation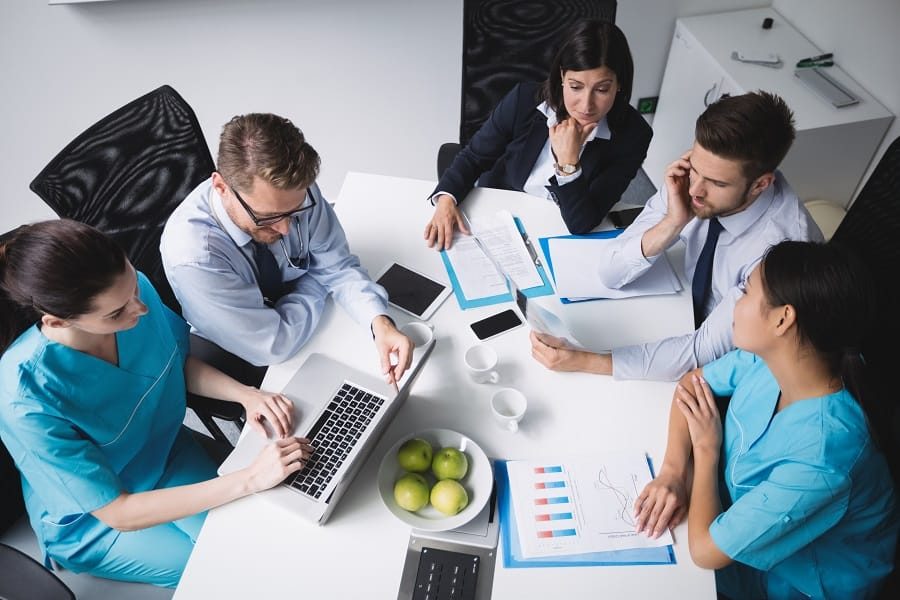 Introduction
Digital Health as defined by Australian Digital Health Agency (ADHA) as "Any application of information and communication technologies in order to improve health care and health outcomes." A simpler definition by Rowlands (2019) refers to digital health as "Health and healthcare in the context of digital societies". We in Ireland, are living in a digital society, one where people expect digital solutions. This makes it an important tool for healthcare and community health.
Before implementing a new digital solution, we must get an understanding of how we do things, and a detailed examination of whether our evolved way of getting things done is appropriate, safe, efficient, patient centric and supports the wider health and social care system.
In this blog we explore the importance of process mapping, improvement and re-engineering as a vital prerequisite step to digital transformation. It's a key part of the transformation aspect, ensuring the correct processes are in place, with the digital part following.
We also look at digital health transformation from the perspective of viewing healthcare as a Complex Adaptive System, and how to leverage this for successful deployment of technology with measurable outcome improvements.
---
Why is process mapping important?
Process mapping is important as it allows you to objectively look at a process and identify the steps involved in the process, and if there is a better way of doing it. There are many processes to consider before you implement technology, such as:
Opportunity: It is important to understand if the process is the same for everyone. People often have different perspectives on how things are done, therefor it is important to understand these perspectives and identify what is the most suitable, best practice process.
Standards: When implementing a new technology, we must consider what standards must be met and complied with, do our multiple processes support meeting standards and identify if there is anything missing.
Performance measurement: What do we need to report on for quality and patient safety purposes, is the way things are done adding value, how do we know and how long does it take and why?
Dependencies external to the process: Consider what must happen before this process can happen, what happens after and how do these processes impact each other? Can one start before something else is complete or are they reliant and dependent on each other?
Find the Critical Path: What roles are critical to success? Is it safe and what happens if one role is missing? Are there contingencies for this?
---
Healthcare as a System
A system "is a set of elements, connected together, which form a whole, thus showing properties which are properties of the whole rather than of its component parts" (Checkland, 1981). It's so important to keep this in mind when planning to implement technology; remain cognisant of not shifting a problem or complexity on to another part of the system.
Systems thinking is about:
seeing interrelationships rather than linear cause-and-effect chains and in seeing processes of change rather than single snapshots
attempts to look at a wide array of elements that make up a pattern of influence
Limited individual information – recognising that no one person has enough information about each factor to make an effective decision about the solution?
Diversity is antidote to complexity – Each factor suggests different people with different knowledge and skills working together to solve the problem.
In the language of complexity science, when a system becomes so complex, where our experience and understanding reach limits and where even experts struggle, we are looking at a complex system.
Similar to science, complex systems are where systems of rules and governance reach their limits and fail to be applicable in extreme circumstances, which means new understanding through the emergence and resting of new theories needs to happen.
In such a context as healthcare, strong leadership means being unfazed by not knowing enough to know what will happened for certain. Complexity science being merged with a range of disciplines, in healthcare this means truly identifying and partnering with stakeholders and this continues to further develop our understanding of systems and increases the likelihood of success.
---
Complex Systems versus Complex Adaptive Systems
Complex systems are any which are affected by very large numbers of variables to such an extent that the outcome cannot be determined accurately.
Active system, or complex adaptive system (Miller and Page, 2007), is where each variable may be determined dynamically, with some local intelligence applied in a way which may be influenced by other parts of the system. In other words, CAS are able to adapt to the particular state they are in. Complex adaptive systems (CASs) are made up of agents, such as nurses and patients, that learn and that relate to each other and the environment in nonlinear ways. The CAS itself learns from experience how to respond most effectively to achieve its goals. This offers the potential to create a system capable of teaching itself how to solve its own problems.
---
Mapping and improving a process in a CAS
There are clear implications for leaders in the healthcare sector. Firstly, in order to start to think of your role as a leader within the wider health and social care system – you need to understand, the elements (all the parts that make up the whole), the links or interrelationships that hold the parts together and its 'permeable' boundaries. We need to designate those boundaries and identify what is inside and outside the system.
This can also help with the understanding of which services and organisations need to be involved in the process mapping to tackle a complex problem or improve a service involving, for example, complex morbidities.
Applying the right type of leadership to shape how people work together is key to successful mapping for processes. We need to involve the wider range of stakeholder that should be involved in process mapping and understand what their roles are inside and outside of that process.
And finally decide how progress will happen and how learning will be reviewed and applied back into the system, how it will be adapted. In terms of process mapping, how will we re-engineer that process to arrive at the best practice approach that works best for everyone.
In harnessing the potential and recognising the implications, we must apply systems thinking in mapping out a process or processes. This enables the achievement of best practice and finding the critical path to success, before we deploy technology. Technology supports best practice and adds to efficiencies, reduces risk and removes bottlenecks. Standards compliance, patient safety and high-quality care is possible!
In relation to the digital health, process mapping and re-engineering in advance of technology configuration leads to the improvements we expect to see from implementation of a modern, dynamic digital health solution.
---
How can HCI help?
At HCI, we have been involved for over 18 years in the the process mapping and re-engineering of processes for the implementation of a QMIS. Over time we became aware of how vital the process mapping aspect is to successful deployment of the digital health solution. We recognise that our process mapping service not only works for implementing QMIS, but for any type of digital health intervention. We offer this mapping service, bringing together key stakeholders as part of a structured project, enabling best practice process re-engineering prior to deployment of the digital health solution and supporting improvements across all areas of healthcare. As we have seen, it is vital that technology supports strong processes in a way that helps the achievement of best practice.
As an example of our service, read our case study with the Mater Private Hospital Dublin where we map out and analysed the processes and information flows in relation to the cardiac diagnostic testing and cardiac procedures undertaken in the hospital. These process maps were utilised to support the Mater Private with the implementation of a Cardiovascular Information System.