Demonstrate your training compliance with Q-Pulse and HCI TrainScan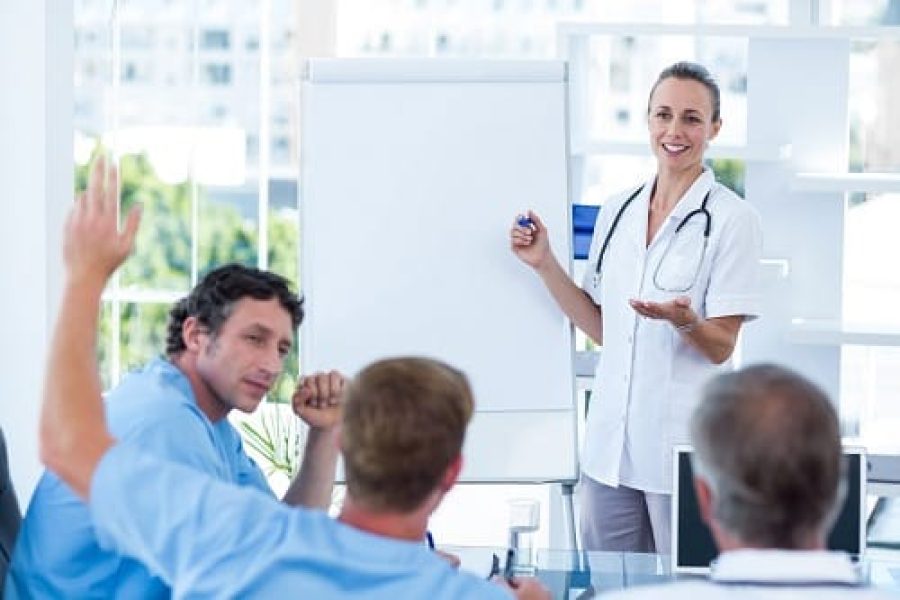 Introduction
Continuous education and training are essential for all health and social care workers to ensure safe care and efficient practices that comply with policies, procedures and statutory guidelines.  Consequently, certain training is regarded as mandatory for healthcare workers and employers are required to demonstrate their compliance with mandatory training requirements.
In this blog post we discuss how Q-Pulse's People and Training Modules and HCI TrainScanTM supports healthcare organisations in effectively managing training requirements and promotes a more user-friendly experience.
---
About the Q-Pulse People and Training Module and HCI TrainScanTM
Ensuring your staff are competent to carry out their roles and responsibilities within the organisation is crucial. The Q-Pulse People and Training Modules support this through the management of staff training records. The modules allow for the control of training and competence for all personnel, recording each staff members' skill set, experience and training history.
HCI TrainScanTM is a staff scanning and reporting system that links with the Q-Pulse People and Training Modules. This intuitive system allows trainers to scan staff ID cards to record training attendance in real time. Furthermore, to support trainers and line mangers with keeping track of their department's training requirements, the reporting system allows managers to run reports to identify what training has been completed and what training is required.
Below are just some of the useful features and benefits of the Q-Pulse People and Training Modules.
---
Features and benefits of the Q-Pulse People and Training Modules and HCI TrainScanTM
Plan ahead for your training events
The Q-Pulse People and Training Modules allow for the standardised scheduling and management of mandatory training and renewable events to be done through the Q-Pulse system. The scheduling of training events helps to improve planning of training, as trainers and line manager can see what dates are busy for training and what dates are free. It also ensures that line managers and staff are aware when renewable training is upcoming.
Self Service Functionality for Staff
The Q-Pulse People and Training Modules allows staff members to quickly access their staff profile and training record. HCI TrainScanTM provides a self-service aspect which allows staff to instantly access details on what training events are upcoming as well as allowing them to book a place on the training course. This helps to reduce the administrative time of the trainer.
 The Q-Pulse People and Training Modules and HCI TrainScanTM are linked which means that all data across the platforms is real time data. This means that when an event is set up in the Q-Pulse System it will appear straight away in HCI TrainScanTM. Furthermore, when a staff member's attendance is recorded at a training event via HCI TrainScanTM their Q-Pulse staff record is immediately updated. This is a valuable tool as trainers are no longer required to manually record attendance in the Q-Pulse system after an event has taken place which can often lead to a delay in accurate training data.
Demonstrate compliance with mandatory training requirements
The Q-Pulse People and Training Modules allow the organisation to demonstrate that they have trained and competent staff in place to perform activities. Following a training course completion, each individual's record is updated to verify they have completed the required training to ensure job competency. Trainers and line managers have 24-hour access to this real time data and can prepare reports to demonstrate regulatory compliance with mandatory training and identify future training needs.
Reduces reliance on paper-based systems
Utilising HCI TrainScanTM to record staff attendance at training events means that trainers no longer need to use sign in sheets to manage training attendance. This alleviates issues such as a delay in updating the Q-Pulse database or simply the loss of a sign in sheet.
Reduce duplication of workload
HCI TrainScanTM is a simple, easy to use interface that reduces training administrative duties and the duplication of work in maintaining paper-based sign-in sheets. It results in less rework and saves time!
---
Find out how The Rotunda Hospital use Q-Pulse and TrainScanTM to Manage Staff Training Records
The Rotunda Hospital is Ireland's leading voluntary provider of maternity, neonatal, and gynaecology care. With over 1000 employees, and a small division to oversee the training requirements, The Rotunda recognised the need to implement a system that reduced training administrative duties and promoted a paperless environment. Subsequently, The Rotunda asked HCI to explore the feasibility of incorporating the scanning of staff ID cards to record attendance at training events and keep employee records up to date on Q-Pulse.
"The Rotunda collaborated with HCI to develop TrainScan, an intuitive, user-friendly interface that allows us to streamline and improve how we manage our training records. With limited resources, it was important for us to have a system that minimised the administrative duties of managing training activities but also gave managers real time data on what training has being delivered, and to whom. We are very happy with what we have achieved with TrainScan and staff have really embraced the system. We look forward to continuing our work with HCI into the future".  Cathy Ryan, HR Manager, The Rotunda.
Click here to read more on how HCI collaborated with the Rotunda to develop TrainScanTM, and what benefits it has brought to the hospital since implementation.
---
Conclusion
The Q-Pulse People and Training Modules, in conjunction with HCI TrainScanTM provide a practical and effective centralised system to manage all your training requirements. The system provides staff and managers with quick and easy access to real time training information, reduces administration workloads, promotes a paperless environment and provides demonstratable evidence of compliance with mandatory training.
HCI is a provider of professional services in relation to patient safety, quality improvement, and regulatory compliance. We understand your requirements when it comes education and training and we have the necessary expertise to support you with the implementation and maintenance of the Q-Pulse People and Training Modules and HCI TrainScanTM. Our goal is to make Q-Pulse easier and more beneficial for you.